Technology
Lenovo Yoga Smart Tab 2023: Android Version, Price & Specifications
Lenovo Yoga Smart Tab 10.1 Inch 64GB Review & Full Specifications! Lenovo Yoga Smart Tab tablet was released on September 5, 2019. The tablet has a 10.10-inch touchscreen display with a 1920×1200 pixel resolution. The Qualcomm Snapdragon 439 processor powers the Lenovo Yoga Smart Tab. It includes 3GB of RAM. The Lenovo Yoga Smart Tab is powered by a 7000mAh battery and runs Android 9.0 Pie. In terms of cameras, the Lenovo Yoga Smart Tab has an 8-megapixel camera on the back. It has a 5-megapixel front-facing camera for selfies.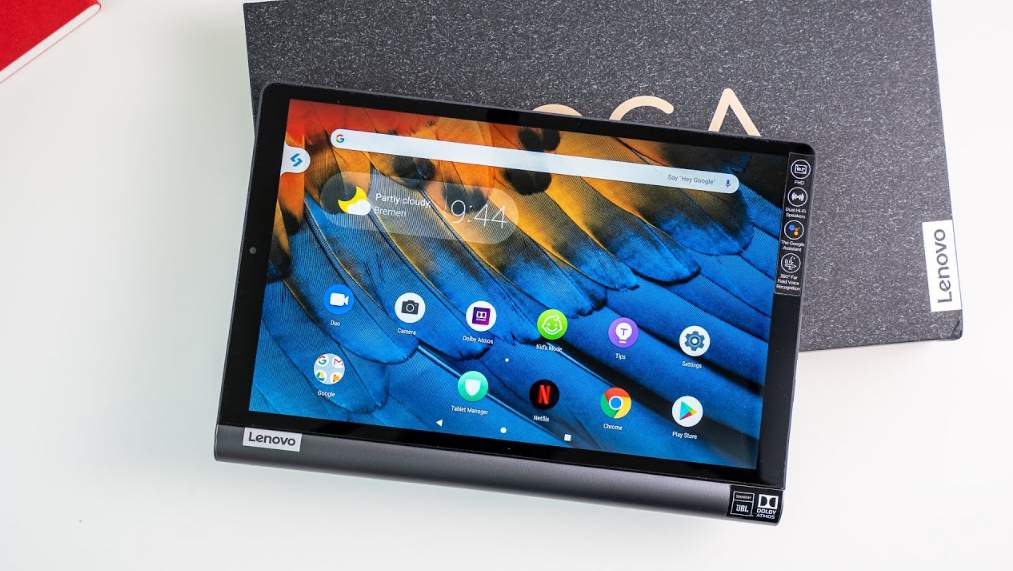 Wi-Fi 802.11 a/b/g/n/ac, GPS, 3G, and 4G are among the connectivity options on the Lenovo Yoga Smart Tab (with support for Band 40 used by some LTE networks in India). The tablet's sensors include an ambient light sensor, a gyroscope, and an accelerometer.
There are several modes. Maximum potential.
Your Yoga Smart Tab adjusts to your schedule. Stand it on its built-in kickstand to watch your favorite videos, tilt it to do your work, hold it while reading or surfing, or simply hang it in the kitchen to experiment with new recipes. This Tab's massive 7000mAh battery ensures that you have an uninterrupted entertainment experience.
More screen space. There is less strain.
Enjoy breathtaking visuals from every angle on your 10.1″ FHD IPS display. Which is supported by TDDI technology for a truly immersive and responsive touch experience. The panel is designed to reduce harmful blue light emission, reducing strain on the eyes. Allowing comfortable use for extended periods of time.
Listen to the pin drop and the beats pop.
The dual JBL Hi-Fi speakers are synced for you to lose yourself in the cinematic surround sound experience, boosted by a smart power amplifier and precisely optimized by Dolby Atmos. So get ready to groove to the pounding beats of party anthems or unwind for the day with the best audio experience available on a tablet.
Take command & control
To enjoy a completely hands-free visual experience with Google Assistant, place your Yoga Smart Tab on its built-in kickstand. Google Assistant can recognize your voice commands even from the far end of your living room thanks to triple digital microphones and 360-degree far-field recognition. Keep your smart home connected from anywhere – Turn on the air conditioning, dim the lights, or see who's at the front door with a simple "Hey Google."
Smart Mode is enabled.
To use your Tab as a Google Smart Display with full Google Voice Assistant support, switch to Google Assistant Ambient Mode. It only takes a voice command to listen to music from Gaana, Saavn, Spotify, and other services, or to watch videos on YouTube. Transform your Tab into a Digital Photo Frame to view all of your most recent Google Photos in a beautiful slide show.
Say it to make it happen.
Have any questions? Your personal Google Assistant is always ready to assist you. Organize your day by creating a task list, checking your calendar, setting reminders, and never missing an appointment. Get directions with Google Maps, communicate with loved ones via Google Duo video calls, and much more with Google services.
Energized for work & play
Say hello to the entertainment hub, which comes with 64 GB of ROM. 256 GB of expandable HDD storage for storing everything from movies to music. With 4 GB RAM, you can easily switch between apps while enjoying high-speed power from the Qualcomm Octa-core processor. The latest Android Pie OS makes your life easier by reducing bugs and improving performance.