News
Knott's Berry Farm Implements "Chaperone Policy", Dress Code For Teens After Weekend Melee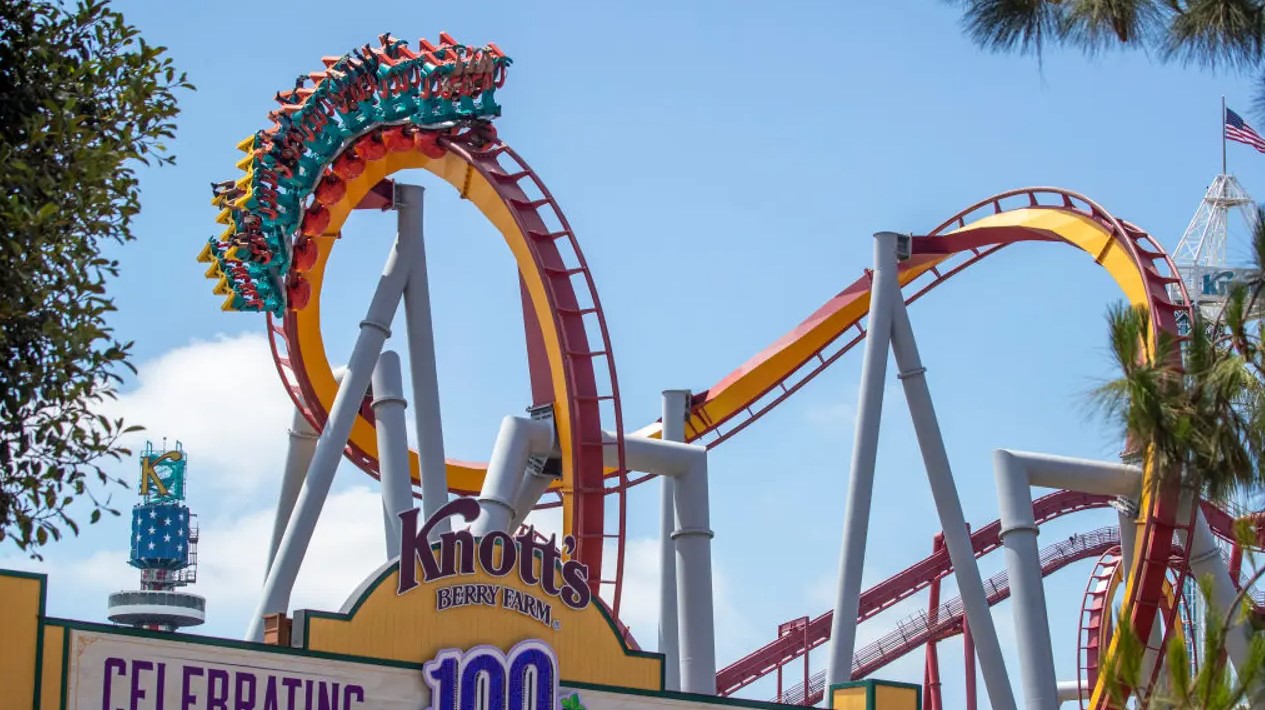 Knott's Berry Farm: LOCAL FUN AT CALIFORNIA'S ORIGINAL THEME PARK With dozens of thrilling rides, shows, and attractions in four themed areas inspired by California's history and culture. Fun is always in season at Knott's. A day at Knott's Berry Farm includes massive roller coasters, and Old West adventures in the authentic 1800s Ghost Town. A tribute to California's Hispanic roots in Fiesta Village. The Southern California beach lifestyle along the Boardwalk, a High Sierras adventure with the world's most lovable beagle – Snoopy! The once small family farm, located just 10 minutes from the Anaheim resort area, has grown into today's family fun destination home to the Knott's Berry Farm theme park, Knott's Soak City Waterpark, and Knott's Berry Farm.
About
Knott's Berry Farm is a 57-acre (23 ha) theme park owned and operated by Cedar Fair in Buena Park, California. It was the twelfth-most-visited theme park in North America in 2015, and it receives approximately 4 million visitors per year. There are 40 rides in the park, including roller coasters, family rides, dark rides, and water rides.
The theme park began in the 1920s as a roadside berry stand operated by Walter Knott along California's State Route 39. By the 1940s, a restaurant, several shops, and other attractions, including a replica ghost town, had been built on the property to entertain an increasing number of visitors. Over the next two decades, the site was transformed into a modern amusement park, and an admission fee was implemented in 1968. The park was sold to Cedar Fair for $300 million in 1997, just two years after ConAgra, Inc. purchased the Knott's food business.
The original Western Trails Museum at Knott's was made of rammed earth or concrete that was made to look like rammed earth. This fireproof construction technique was used in the old mining town of Calico, California. The Orange County Archives provided this photo from 1983.
Origin
The park is built on the site of Walter Knott's and his family's former berry farm. Beginning in the mid-1920s, the Knott family operated a roadside stand along State Route 39, selling berries, berry preserves, and pies. The Knotts began selling fried chicken dinners in a tea room on the property in 1934, which became known as "Mrs. Knott's Chicken Dinner Restaurant." The dinners quickly became a major tourist attraction, and the Knotts built several shops and other attractions to keep visitors entertained while they waited for a seat in the restaurant. Walter Knott began building a replica in 1940. Walter Knott began building a replica Ghost Town on the property in 1940, laying the groundwork for the current theme park. When Walter Knott opened a "summer-long county fair" in the 1950s, the concept of an amusement park took off.
Walter Knott's key employee in the creation of Ghost Town at Knott's Berry Farm and the restoration of the ghost town of Calico. California was Paul von Klieben. s a staff artist for Knott's in 1941 and later became art director from 1943 to 1953.
He also drew floor plans, oversaw building construction, and even spent time painting concrete to look like natural rock. His Old West paintings and murals adorned the walls of many park structures, and some of them still do. His work appeared frequently in Knott's newspapers, menus, brochures, catalogs, and other publications.
Walter Knott made a deal with Marion Speer in 1956 to bring his Western Trails Museum collection to Knott's Berry Farm. Speer had been an outspoken supporter of Walter Knott's efforts to establish Ghost Town, contributing articles to Knott's newspaper, the Ghost Town News.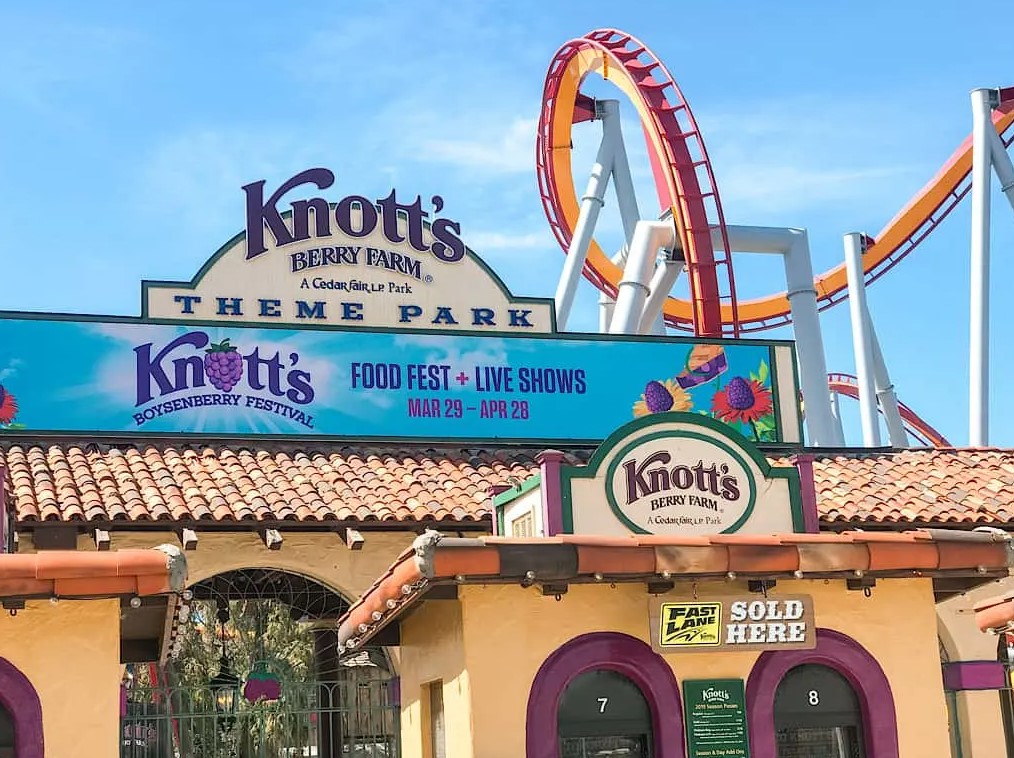 New Owner
After Walter and Cordelia died in the 1990s, their children decided to sell their businesses: Cedar Fair purchased the Buena Park Hotel on Grand Avenue and Crescent in the late 1990s.
The Knott family sold the food specialty business to ConAgra Inc in 1995, and the brand was later resold to The J.M. Smucker Company in 2008.
Marion Speer (at the age of 72) donated the carefully cataloged collection (30,000 items) to Knott in exchange for Knott's housing and display. Naming Speer as a curator in 1956, twenty years after establishing his museum. Speer held that position until 1969 when he retired at the age of 84.
Cedar Fair purchased the Knott family's amusement park operations in 1997. The Knotts refused to sell the park to Disney for fear of losing most of what Walter Knott had built.
Ghost Town
In Ghost Town, artisans demonstrate their skills as a blacksmith, woodcarvers, glassblowers, sign cutters, and spinners. Seasonally, demonstrations of narrow gauge railroading and farm equipment hobbyists accompany additional merchant stalls of cottage-craft fairs, which are restricted to Ghost Town only.
There are a few other notable attractions in the Ghost Town area. During "Knott's Merry Farm," the Bird Cage Theatre only hosts two seasonal entertainments: two small productions of "Marley's Wings" and "A Christmas Carol," and a Halloween Haunt thrill show. The Calico Stage, a large open-air stage in Calico Square, hosts a wide range of shows and acts. From elementary school students to Gallagher, a local band, and the summer-spectacular All Wheels Extreme stunt show, which features youthful performers demonstrating aerial tricks with acrobatics. Trampolines riding ramps with skates, scooters, skateboards, and freestyle bikes to popular music.