Laptop
2023 Asus Zenbook 17 Fold Folding Touchscreen Hybrid Laptop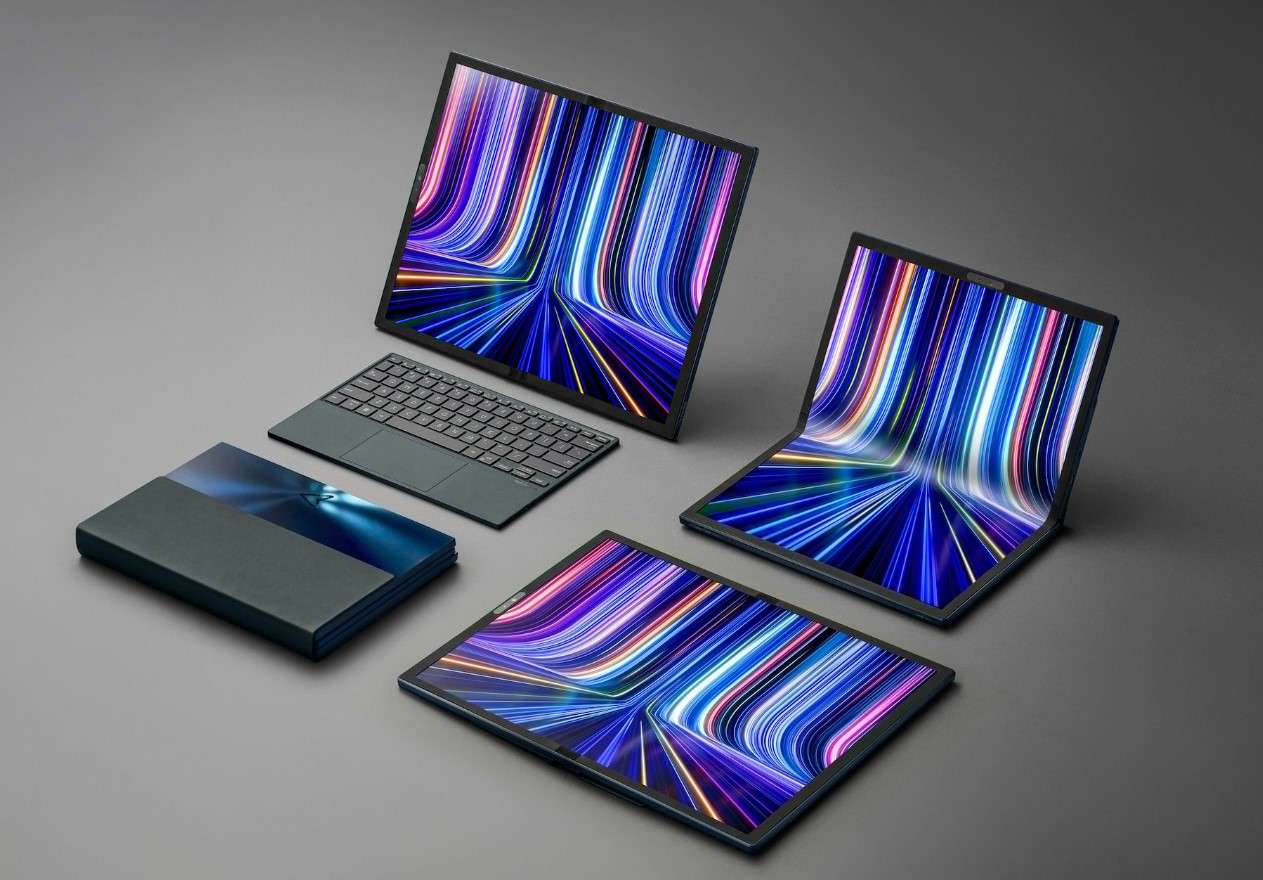 Foldable phone prototypes were all over the CES halls a few years ago. Foldable phones are now widely available and are quite good. The emphasis has switched to foldable laptops at CES 2023. Technically speaking, the Asus Zenbook 17 Fold is not the first device of its sort, but it is the first one that is actively pursuing the foldable laptop market. At the show, I got a chance to experiment with the gadget a little. It's fantastic, but just in theory at the moment. A foldable laptop was introduced at CES 2023. When March arrived, businesses began to cancel their plans. With the ThinkPad X1 Fold, Lenovo moved forward despite its poor performance and claustrophobic design.
Display
The second folding laptop on the market is the Asus Zenbook 17 Fold, but it has learned from the mistakes made by earlier models two years ago. First off, it has a 17-inch screen that can be folded down to around the size of a 13-inch laptop. Additionally, it ought to function better. Performance couldn't be tested by me, but according to Asus, the device has a cutting-edge Intel processor. Although the firm won't specify, I believe it to be the 12th generation.
And compared to the Lakefield chip inside the X1 Fold, that ought to perform far better. Windows 11 is also advantageous for the Zenbook 17 Fold and I found it to be remarkably responsive during my use of it. When I hooked the keyboard, Windows rapidly rotated and shrunk to a smaller size, albeit it's still not as speedy as iOS.
The machine needs to be closed with both hands, the screen feels like it has a plastic film covering it, and there is a ripple in the center of the screen where the fold is. According to Asus, the issue should be resolved before the computer is released. Weight and size are the main problems. The Zenbook 17 Fold is portable in terms of width and height, but not in terms of thickness.
It weighs roughly as much and is about the thickness of two thin 13-inch notebooks placed on top of one another. The apparatus is mostly to blame for that weight. The keyboard is as light as it gets while yet being comfortable to type on (I'll expand on that later). However, it needs separate charging, so you'll need two connections to recharge the Zenbook 17 Fold.
ASUS ZenBook 17 Fold Display Full Specification
CPU / Processor
Intel® Core™ i7-1250U Processor and 1.1 GHz (12M Cache, up to 4.7 GHz, 2P+8E cores)
Memory
16GB LPDDR5 on board, Memory Max Up to:16GB
Storage
1TB M.2 NVMe™ PCIe® 4.0 Performance SSD
Graphic Card
Intel® Iris Xe Graphics
Display Screen

Design

Resolution

17.3-inch, 2560 x 1920 FOLED 4:3, 0.2ms response time, 500nits peak brightness, 100 percent DCI-P3 hue gamut, 1,000,000:1, VESA Display HDR True Black 500, 1.07 billion colors, Glossy type display, less harmful blue light 70 percent, Touch screen, and a screen-to-body ratio of approximately 87 %.
Camera
5.0M camera with IR function, supports Windows Hello
Operation System
Windows 11 Home Feature
Optical Drive
NA
Audio & Video
Smart Amp Technology; Built-in speaker; Built-in array microphone

Harman/Kardon (Premium)

with Cortana and Alexa voice-recognition support

Network

Connectivity Technology

Wi-Fi 6E(802.11ax)+Bluetooth 5.2 (Dual band) 2*2
Keyboard Feature
Soft Keyboard; 1.4mm Key-travel
Interface
2x Thunderbolt™ 4 supports display/power delivery

1x 3.5mm Combo Audio Jack

Battery / Power Supply
75WHrs, 4S1P, 4-cell Li-ion
Dimensions(W x D x H)
37.85 x 28.76 x 0.87 ~ 1.17 cm (14.90″ x 11.32″ x 0.34″ ~ 0.46″)
Weight
1.65 kg (3.64 lbs)
Remark
2 Years Limited Manufacturer's Warranty ( Parts :1 Year, Labour :1 Year )
Although the fold is respectable, the Zenbook 17 still requires more than a folding screen. The actual screen is excellent. With a 2560 x 1920 resolution, 1,000,000:1 contrast ratio, 0.2 ms response time, 90 Hz refresh rate, and VESA DisplayHDR 500 True Black certification, it satisfies Asus' absurdly high display specifications. Particularly when the Zenbook 17 Fold is configured like a typical laptop, it is vivid and rich. The screen simply isn't flat enough to enjoy without the keyboard. You can make out the colors and the stark contrast, but you can also make out some glare from the display's top irregularities.
About Asus Zenbook 17
I was astonished at the detachable keyboard. I anticipated it to be overly clicky and inexpensive because it is detachable. It isn't. The ErgoSense keyboard, one of my favorite mobile keyboards, is the same one that Asus uses on its other Zenbook notebooks. The parts closest to the keyboard are lacking. The build feels like you could rip the keyboard in half without giving it a second thought, and the magnets didn't always stay. It's not a laptop keyboard front to back, but I still enjoyed using it for typing.
The Zenbook 17 Fold still has the air of a prototype. It hasn't quite achieved folding nirvana, but it is closer than the ThinkPad X1 Fold was. Even if Asus fixes some of the machine's issues before release, this isn't the final design for foldable laptops. Although Asus has informed me that the final version will be improved, I doubt it will completely address the machine's problems. In any case, it's a positive development for the future and an essential step toward foldable computers. Since the Zenbook 17 Fold is one of the first truly functional foldable laptops, it is impressive. The Zenbook 17 Fold is a gift from heaven for early adopters. It just serves as a precursor to what is to come for everyone else.