Cars
New 2024 Dodge Hornet – Pricing, Full Specs & Release Date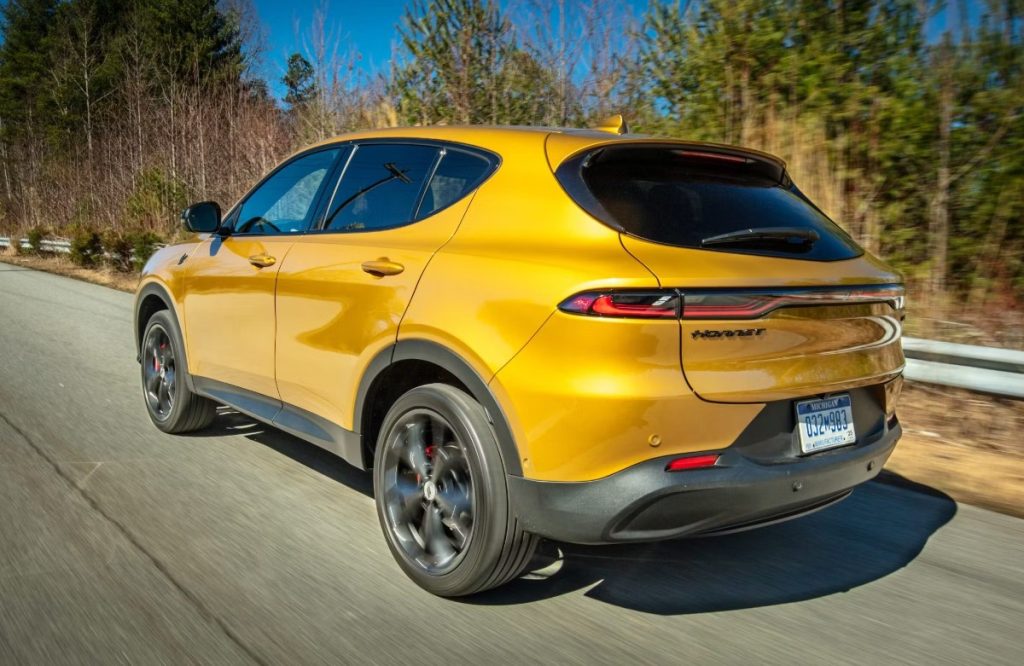 The 2024 Dodge Hornet is bringing the best new compact SUV to car lovers at an affordable price. It offers almost the same experience as the Alfa Romeo Tonal. Using the same plug-in-hybrid powertrain as the Dodge Alfa, it is also offered with a nonhybrid variant that produces 268 horsepower; All-wheel drive will be standard with both powertrains.
Compared to other compact SUVs such as the Honda CR-V and Toyota RAV4, the Hornet's cabin is a bit snug, with less room for passengers and cargo. Dodge equips each model with a generous list of standard features including a digital gauge display, the company's most up-to-date infotainment interface, and a host of driver-assistance features including automatic emergency braking with pedestrian and bicyclist detection.
However, Dodge is a division of the American automobile brand Stellantes North America. It is one of the most famous and popular companies in the world. In 2024, Dodge will bring many of the brand's best-new compact SUV vehicles to the United States, with the 2024 Dodge Hornet being one of them.
In this article, We are discussing know the price, exterior, interior, engine models, colors, and full features of the 2024 Dodge Hornet. Please read the complete content which will help you to get a complete idea about the car.
2024 Dodge Hornet Specs
| | |
| --- | --- |
| Brand: | Dodge |
| Car Model: | Hornet |
| Price: | Start at $30,735 |
| Release Date: | In 2024 |
| Made In: | American |
| Class: | Hybrid Compact SUV |
| Drive Type: | All-Wheel Drive |
| Engine: | a Turbocharged 2.0-liter Four-Cylinder |
| Fuel type: | Regular Gasoline |
| Fuel Tank Capacity: | 13.5 gal |
| Horse Power and Torque: | 268 horsepower plus up to 295 pound-feet of torque |
| Transmission: | Nine-Speed Automatic |
| 0-60 mph | In 5.5 Seconds |
| Range: | About 360 Miles |
2024 Dodge Hornet Exterior Colors and models:
The Hornet comes with 7 available exterior colors and 3 available interior color options.
8 Ball Black
Gray Cray
Blue Steele
Blu Bayou
Hot Tamale Red
Acapulco Gold
Q Ball white
The Dodge Hornet also features three interior colors available seating materials. There includes:
Black Cloth + Leatherette w/ Red Stitch
Black Leather w/ Red Stitch
Black + Red Leather w/ Red Stitch
Black Alcantara w/ Red Accents & Stitch
The 2024 Dodge Hornet will be available in four trim levels: GT, GT Plus, R/T, and R/T Plus.
2024 Hornet Interior:
The Hornet's cabin is spacious, quiet and comfortable. The front seat is spacious for the riders but the back seat is a bit tight. Its interior styling is similar to Tonal. The Smart Connectivity primary controls and infotainment system are slightly canted towards the driver and have a long shift lever for the automatic transmission located in the center console.
The Hornet uses the same steering wheel as the Alfa Romeo which provides excellent drive assistance and features a Dodge logo in the center of the steering wheel. There is also an integrated ignition switch under the left spoke. Black upholstery with red stitching is standard on the car but the GT Plus trim comes with leather.
All models offer a 10.3-inch infotainment touchscreen and a 12.3-inch digital gauge display. The software interface is the latest Uconnect 5 system, which is used in other Stellar models such as the Chrysler Pacifica minivan and Ram 1500 pickup truck. The GT Plus swaps in a 14-speaker Harman/Kardon stereo with standard features such as wireless Apple CarPlay and Android Auto. Also adding a wireless smartphone charging pad.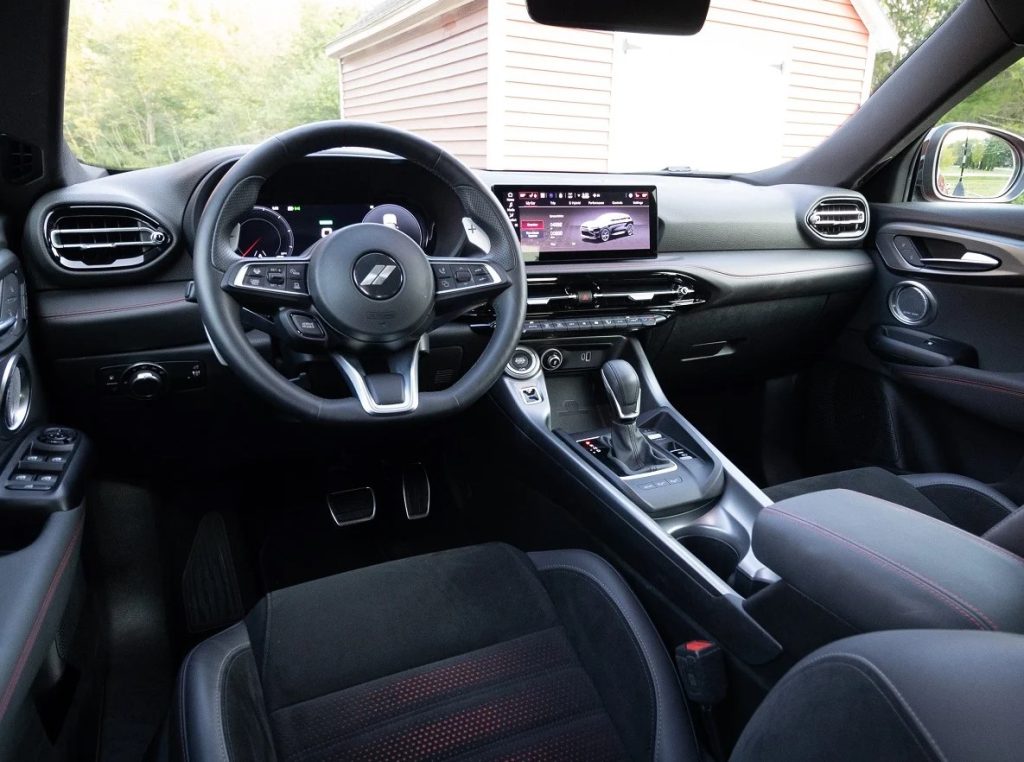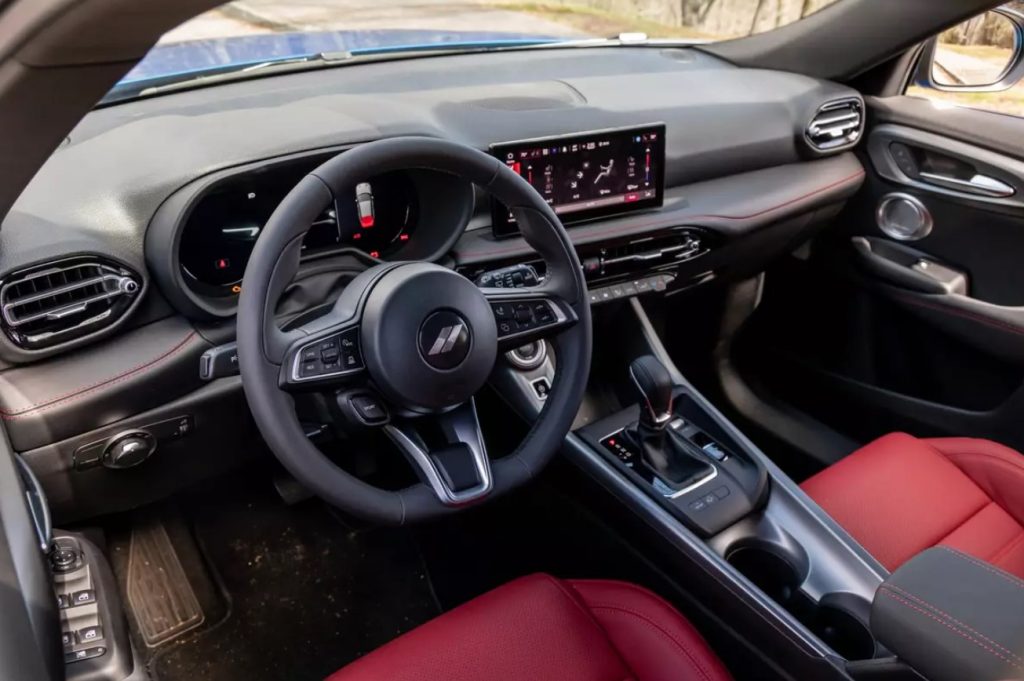 2024 Dodge Hornet Powertrain:
2024 Hornet GT models are powered by a turbocharged 2.0-liter four-cylinder that produces 268 horsepower and 295 pound-feet of torque. The car will be mated to a nine-speed automatic transmission and all-wheel drive. We estimate that this powertrain will propel the Hornet to 60 mph in 6.5 seconds, which is good enough to inspire serious buyers.
The Hornet R/T model is Dodge's first plug-in hybrid, and it will be powered by a turbocharged 1.3-liter four-cylinder and an electric motor for 288 horsepower. While it's expected to get a six-speed automatic, all-wheel drive is still expected to come standard. Also, The plug-in-hybrid R/T model comes with a 12.0-kWh battery pack rated for 33 miles of electric driving per charge.
2024 Hornet Fuel Economy:
The new 2024 Hornet gets an EPA-estimated 21 mpg in the city and 29 mpg on the highway.  Here plug-in-hybrid R/T model is rated for 29 mpg combined, or 77 MPGe combined when factoring in the electric range from the onboard battery pack.
Safety Features:
The 2024 Hornet compact SUV has a fairly good safety rating score. The new car comes with safety features Forward Collision Warning and Automatic Emergency Braking. The Hornet Hybrid SUV car has front and rear ventilated disc brakes and Blind Spot Monitoring. It has a Rear Cross Traffic Alert and Adaptive Cruise Control. In addition, the 2024 Dodge Hornet features a Lane Keep Assist System and dual front side-mounted airbags on a 2024 Dodge Hornet model.
2024 Dodge Hornet Released Date:
The 2024 Dodge Hornet is set for production in the United States. This compact utility vehicle is yet to reveal the details of the Hornet SUV lineup but will be available in the market soon. which is expected to be available in early 2024.
How Much Cost 2024 Dodge Hornet:
| | |
| --- | --- |
| Trims | Price |
| 2024 Dodge Hornet GT Price in USA | Start at $30,735 |
| 2024 Dodge Hornet GT Plus Price in USA | Start at $35,735 |
| 2024 Dodge Hornet R/T Price in USA | Start at $40,935 |
| 2024 Dodge Hornet Plus Price in USA | Start at $45,935 |